White water Rafting Annecy:

Rafting specialist in Annecy
for 20 years

Choose

your thrills

with our

various descents!
Whether you're a beginner, a lover of whitewater sports and outdoor activities, an adrenaline junkie, or simply in love with our beautiful region, come and explore the most beautiful rivers with the Rafting Annecy team.
We welcome you to our different bases in Savoie and Haute-Savoie to introduce you to our descents: rafting on the Isère River between Bourg Saint Maurice and Centron, and on the Dranse River above Thonon les Bains. The rapids of the Isère and the Dranse await you for thrilling experiences through various types of descents. Indeed, we have something for every taste and skill level. Choose the course that best suits your desires!
What do you feel like doing?"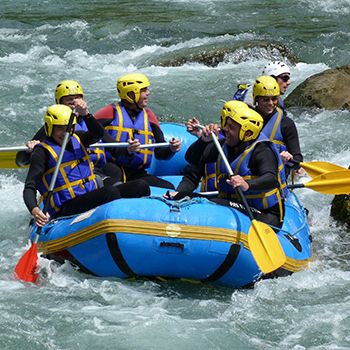 Rafting
Embark on a rafting descent with our team! An exhilarating whitewater experience with laughter and guaranteed thrills.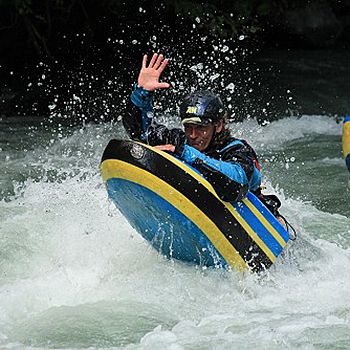 Hydrospeed
Immerse yourself in the water and pilot these small rafts to tackle the most famous rapids of the Dranse and the Isère!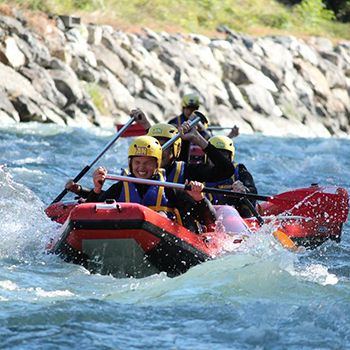 Canoraft
On board a 2-person craft, discover the most beautiful whitewater routes under the watchful eye of our certified instructors.

With RAFTING ANNECY, outdoor sports enthusiasts, rafting enthusiasts, or casual explorers for a day: discover the world of whitewater. This spring, we offer rafting descents at locations around Lake Annecy.

For whitewater enthusiasts, numerous international competitions take place. The rafting sites are located approximately 1 hour from Annecy on the Dranse River above Thonon and Evian, and on the upper Isère River between Bourg Saint Maurice and Centron.

Rafting can be practiced even on rainy days. Despite that, the conditions were not favorable for whitewater. However, you can still enjoy the wonders of Annecy: its old town, its lake, and its other outdoor sports such as canyoning, mountain biking, paragliding, hiking, or even climbing. Annecy is a magical place for your holidays!
YOUR QUESTIONS ABOUT RAFTING ANNECY
Votre titre va ici
Your content goes here. Edit or remove this text inline or in the module Content settings. You can also style every
In practical terms, how do you book and come to the school?
Firstly, you need to book your descentel, ideally a few days in advance to have as much choice as possible.
To do this, you can drop into our office in Annecy's old town, or book by phone on 04 50 45 60 61, or via this website.
Once you've booked, we'll arrange to meet you at one of our bases in Aime La Plagne or Thonon.
Once there, we will welcome you and equip you for your rafting trip.
Can children go rafting ?
 From the age of 8, children can go rafting with an instructor, depending on the descent chosen !
All they need to know is how to swim
As far as fear is concerned, rest assured that your toddlers are generally very brave, and often much less apprehensive than adults !
What are the best times of year for rafting in Annecy ?
The rafting season in Annecy generally runs from April to October on the Dranse and May to September on the Haute Isère, when water levels are appropriate.
Do I need to be able to swim to go rafting in Annecy?
The answer is yes ! You'll need to be a good swimmer to get the most out of this experience. Our qualified instructors will look after your safety and guide you around the most beautiful whitewater courses, and you'll also be given a lifejacket.
What equipment should I wear for a rafting trip in Annecy?
All you need to bring is your swimming costume and a towel!
When rafting in Annecy, it's essential to wear the right equipment to ensure your safety and comfort. We'll provide you with a helmet to protect your head in case of impact, a lifejacket to ensure your buoyancy in all circumstances, and closed shoes to avoid foot injuries.
How long does a typical rafting trip in Annecy last?
Une sortie de rafting à Annecy dure généralement de 2 à 4 heures, en fonction du parcours choisi
Can I go rafting in Annecy if I have no previous experience?
Yes, rafting in Annecy is suitable for beginners, and the guides will teach you the basics.
How can I prepare physically for a rafting trip in Annecy?
It's good to be in general shape, but it's not necessary to train specifically for rafting. It is important to listen to the guide's advice during the activity.
What is the average cost of a rafting session in Annecy?
 The cost of a rafting session in Annecy varies according to the route, duration and river chosen, but it can cost between €40 and €79 per person on average.
Listen carefully to the take-off instructions:
It's quite simple: when you hear the signal, you should start walking in the direction of the lake (and the void). At this point, the glider will inflate and exert a backward pull that you will have to resist a little.
Once the canopy is overhead in the flying position, you'll feel that it's easy to move forward again. At this point, you should accelerate and above all not stop when you feel the glider starting to take off: you need to run a little in the air!
That's it! To sum up, you have to walk and then run a few metres towards the lake!
Under no circumstances will you have the sensation of jumping or falling!
The Annecy rafting team will do everything in their power to make sure you enjoy your descent !